On behalf of the Members at Middlesbrough Seventh-day Adventist Church welcome to our home on the web.
| | | |
| --- | --- | --- |
| | | |
| | Middlesbrough Seventh-day Adventist Church | |
This site also provides information about the Seventh-day Adventist Churches based in Darlington and Durham.
We extend to you an open invitation to experience our worship at the nearest church to your home, you will find warmth of fellowship as we wait the fulfillment of the prophecies relating to the Second Coming of our Lord and Saviour, Jesus Christ.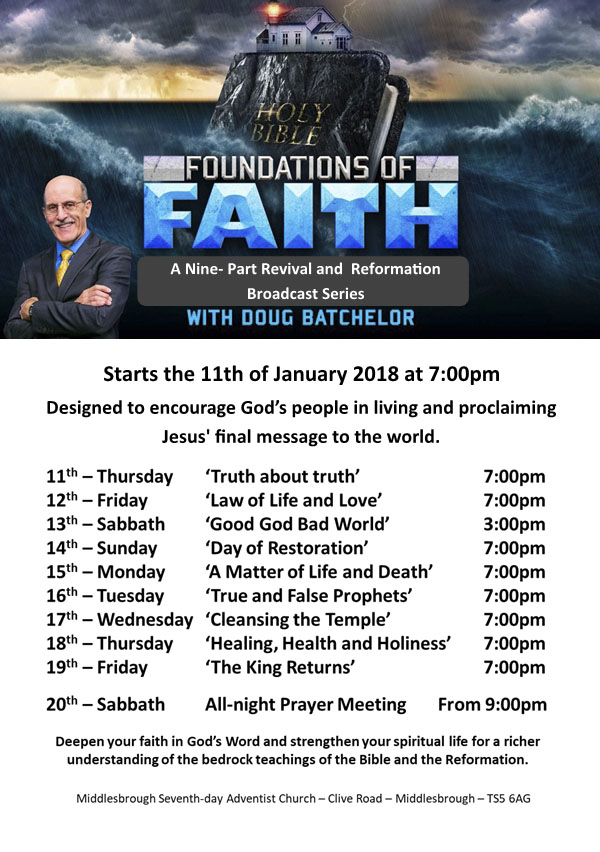 "Foundations of Faith" is produced by Amazing Facts
For more than 40 years, Amazing Facts has been committed to proclaiming the three angels' messages of Revelation 14 and fulfilling the great commission of Jesus Christ. Our many dynamic outreaches — television, radio, the internet, publishing, and more — not only share the gospel and transform lives all around the globe, they also encourage, inspire, and equip others to help build up God's kingdom in these last days of earth's history. Amazing Facts is dedicated to using every means possible to proclaim God's final message of hope and warning to the world. We encourage you to explore our many eye-opening videos available through YouTube. Each is filled with trustworthy, eye-opening information backed by Scripture -- amazing Bible facts that will totally transform the way you think about God. "For God so loved the world, that he gave His only begotten son that whosoever believeth in Him may not perish, but have everlasting life." John 3:16

During the month of August 2014 a series of 12 seminars were presented on the biblical book of Daniel.
Worksheets that were used in conjunction with this series of seminars can be downloaded by clicking on the links below.
Meetings are held on Sabbath (Saturday) the times at the three Churches are:
Our resident ordained minister, who is in charge of all three churches in the area, is Pastor Dan Dachin. Should anyone require to contact him please use use the contact us page or telephone 07429 404068.

A welcome to visit Middlesbrough Church from Isabel.
Hello, my name is Isabel Dirahu and I go to the Middlesbrough Seventh-day Adventist Church. I enjoy going to church because when you go you have lots of people keen to help you understand the Bible, you will find learning about God easy.

My church has lots of very different people, from across the world and different ages! There are teens, children, babies, adults and the elderly. The children in the church are a blessing, their compassion for God is endless, they sing for Him, tell stories about Him, and tell friends about Him and much more! Some children have been growing up in the church and have learnt brilliant things about our Saviour.

The teens are always up for Bible study and helping out, there are about six pre-teens and a few teens. It's great to have an example for the kids of what they should believe in when they are older and some great singing teachers too!

The adults are a thrill to have in the church; they and the kids are like two peas in a pod! They always help when it comes to cooking, teaching and helping us to pray and read the Bible.

So I hope you will come to my church, because together with Christ we grow in faith and knowledge.
One of the fundamental beliefs of the Seventh-day Adventist Church is baptism by total immersion. This was a practise carried out by the early Christian believers in Britain but fell into disuse later. Our previous resident minister Pastor Peter Jeynes is a keen photographer and video maker. He has made a short film about an early outdoor baptistry that he found quite recently in the Pennines. To view this video requires RealPlayer, if this player is not on your computer it may be downloaded from this link.
The Middlesbrough Congregation now have their own church in Clive Road Middlesbrough. Previously we used the facilities of St. Barnabas Anglican Church. A Day of Fellowship was held there in September 2007 when five people were baptised by total immersion, the video may be viewed here.
If yiou wish to read the Bible through each year, there is a Bible Reading Guide based on the guide Reverend Robert Murray M'Cheyne compiled. This modified guide has now been produced. Please click here to access it.
A leaflet outlining some information about the Church can be downloaded as a .pdf document (see paragraph below). Other literature is readily available for the asking sent free of charge and without any obligation on your part by using the form in the 'contact us' page.
Some of the information above is in the form of Adobe Acrobat portable document forms (.pdf). To read or print such forms requires the Adobe Acrobat Reader. If you require an upto date reader click the symbol below.
You may search the web and also find what you want from this website by using Google WebSearch below.